£15 off on eBay until March 30
This is my first post , please go easy on me!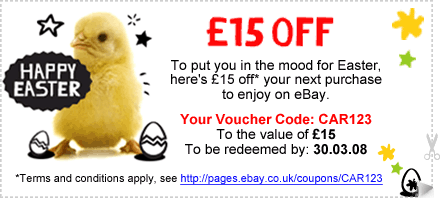 I saw this message in my ebay messages inbox
I am really tempted by this offer and think that I may have a go at it.
Hopefully somebody will share the same interest .
Enjoy guys..
Coupon code: CAR123
Coupon Terms and Conditions
1. This offer is open to targeted
ebay.co.uk
registered users who are UK residents 18 years of age or older.
2. One coupon per registered user only. All coupons must be redeemed by 23:59:59 BST March 30th 2008.
3. To redeem this coupon, purchase a single item of any value on
ebay.co.uk
, using PayPal as your payment method. Enter the coupon code (Car123) when you are prompted to during the PayPal payment process.
4. The coupon value of £15 applies to the final item price, as well as any postage, packing and any taxes.
5. The offer is valid only when you pay with, and seller accepts, PayPal.
6. The coupon is valid only when your eBay email address matches the email address of your PayPal account.
7. The coupon can be redeemed against the payment for one single item only.
8. The purchase you make to redeem this coupon must comply with eBay and PayPal's User Agreements and policies.
9. The coupon is valid from 00:00:01 GMT March 17th 2008 until 23:59:59 BST March 30th 2008. The coupon expires on BST March 30th 2008, unless cancelled earlier in accordance with these Terms and Conditions.
10. This coupon cannot be combined with any other coupon, site discount, rebate, offer, gift voucher or other promotion.
11. The coupon has no cash value, cannot be transferred and cannot be forwarded.
12. The coupon is void where prohibited.
13. Any refund you may be entitled to receive will not include the coupon or its redemption value.
14. eBay International A.G. ("eBay") is the organiser of the promotion. eBay may carry out this organisation through its local subsidiaries.
15. These Terms and Conditions are governed by English law.
16. eBay makes no representations or warranties of any kind regarding any product or service provided by any third party in connection with any coupon promotion.
17. eBay will not be responsible for any third party's performance or failure to perform any services related to any coupon promotion, or for any costs, damages, accident, delay, injury, loss, expense, or inconvenience that may arise in connection with the use of the coupon, provided that nothing shall limit eBay's liability for death or personal injury caused by its negligence.