Belkin universal dvd connection kit £1.99 @ Home Bargains
Experience cleaner, sharper, more accurate audio and video with PureAV cables from Belkin. Using advance engineering methods and the highest-quality materials, PureAV Cables isolate your signal from interference to deliver the purest sound and picture. Ordinary cables, such as those that come with your device, sacrifice performance by using lower-grade materials, including steel or low-purity copper conductors. PureAV's broad selection of products offers a full range of performance levels to enhance your home theatre experience.
The kit provides a complete solution to connect your computer or laptop to your television. The S-Video and composite cable deliver a high level of colour accuracy and sharp picture detail. The Audio splitter cable connects your equipment for better sonic accuracy and more detailed sound. The scart adapter makes connecting to your television easy.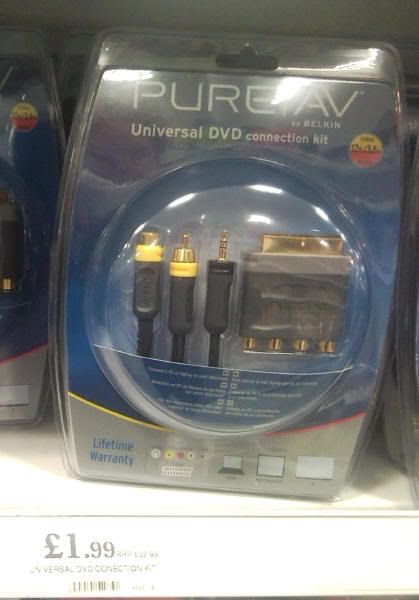 This is not the S-Video kit