The simple, versatile design of this UX Training holdall makes it perfect for your gym kit as well as your go-to work bag. The sportswear specialists at Umbro have kitted it out with handy side pockets, an adjustable strap and raised platforms on the bottom of the bag, so you can set it down without worrying about your stuff getting wet. The nylon fabric also keeps it a smart option of rainy days.
• Branded Umbro Logo
• Zip fastening
• Adjustable detachable shoulder strap
• Twin carry handles
• 2 mesh trim zipped pockets at side
• Diamond textured pattern
Width: 19 inches/48cm
Height: 10 inches/25.5cm
Depth: 10.5 inches/26.5cm
Matching boot bag...
Umbro Boot Bag
for £3
Matching top...
Umbro Polo Shirt - White
for £3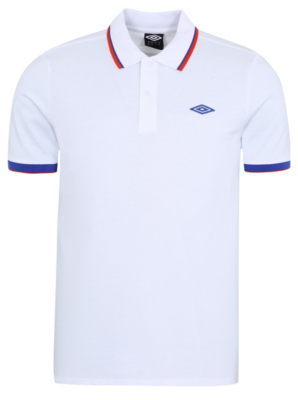 TopCashback 2.3%
More umbro ...
Umbro Velocita Jacket
now £10.00
Umbro Velocita Jacket
now £10.00
Umbro Velocita Rucksack
now £6.00
Umbro Tracksuit Set
now £5.00
Umbro Logo T-shirt
now £3.00
Umbro Polo Shirt - Blue
now £5.00
Umbro Velocita Goalkeeper Gloves
now £5.00
Umbro Velocita Cap
now £4.00
Umbro Velocita Shorts
now £6.00
Umbro Velocita Training Kit
now £6.00
Umbro Velocita T-shirt
now £6.00
bb8