Just a heads up if you have friends and/or family travelling
Passengers complain of long queues at airports - including Heathrow and Gatwick - due to a "worldwide computer outage".
British Airways passengers have been hit by delays after an IT glitch affected worldwide check-in systems - including Heathrow and Gatwick.
Travellers have complained of long queues, with the systems problem reported at international airports in London, Amsterdam, Denver, San Francisco, Toronto, Chicago, Berlin, San Diego, Las Vegas, Phoenix and Rome.
Travellers have been handed a letter
It read: "At this time we are experiencing problems with the computer systems. As a result, in order to continue to check-in, in the absence of the computer system, we will be using a manual fallback process.
"Initially, this means the customer service staff need approximately thirty minutes to set the process up in order for it to work effectively and not to delay you later.
"Once we begin, check-in will be slower than normal, as information has to be recorded by hand."
Staff with clipboards were writing manual boarding passes for passengers, a delayed traveller at Seattle Airport said.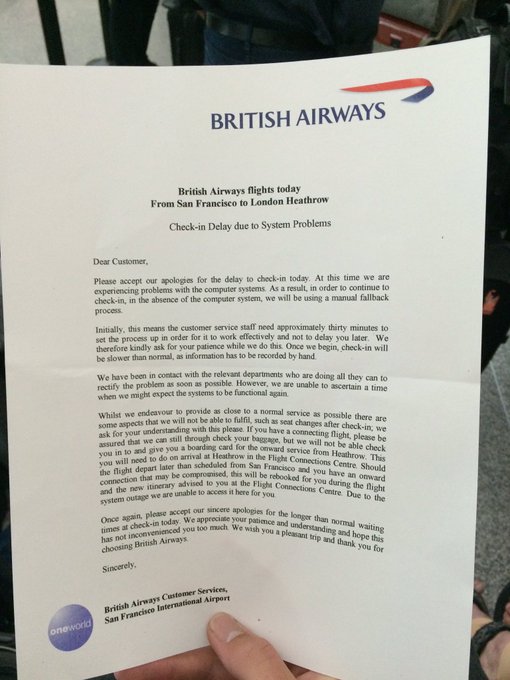 Source