Hey guys, still got a copy of No Man's Sky?
I'm kind of guessing that everybody's still pretty hacked off at Sean Murray and his lies, and to add insult to injury it's been like three month's since Mr Murray or anybody from Hello Games has actually even spoke about No Man's Sky (well apart from that silly little Tweet that went out, pic below)
Anyhow. It's happened, Hello Games have broken their 90 day silence on No Man's Sky and have announced the upcoming Foundations Update...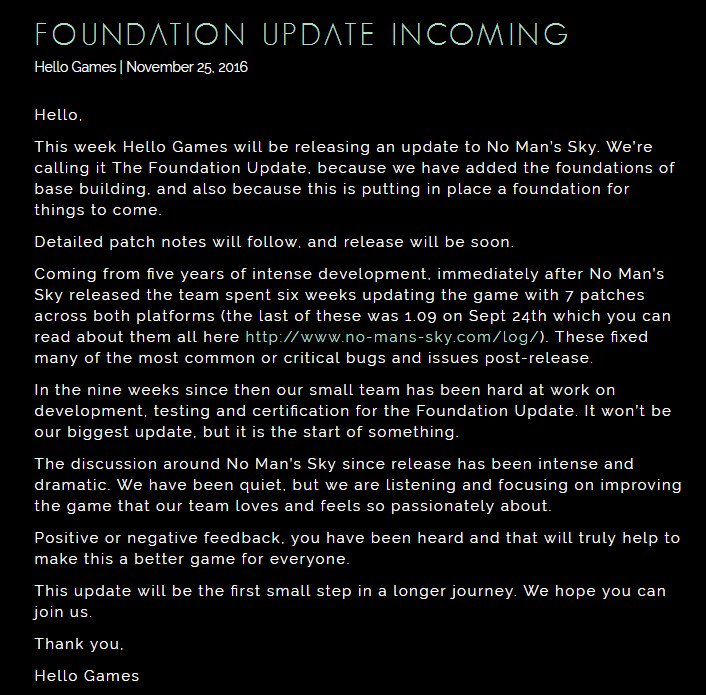 Apparently this upcoming update is a
small step in a longer journey
. You can't help that feel that Sean has now realised that somehow he has to produce a games that is based purely on his
lies
. Hopefully implementing everything he promised the game would have, that was unfortunately missing at launch.
Don't get me wrong, I fully appreciate that Murray let his tongue go a little wild with his expectations in the run up to the launch No Man's Sky, he had an idea in his head and he wanted it to be a real thing, unfortunately that wasn't the case, but I strongly believe that us, the consumers are equally to blame for piecing together little snippets of Murray's comments and creating our own game, in our heads which were far far away from where NMS was heading.
Anyway, the question is. Is it too late for No Man's Sky or have you guys given up with absolutely no chance of going back in the future if the things that were promised are put into place?
⋆ ✢ ✣ ✤ ✥ ✦ ✧ ✩ ✪ ✫ ✬ ✭ ✮ ✯ ✰ ★⋆ ✢ ✣ ✤ ✥ ✦ ✧ ✩ ✪ ✫ ✬ ✭ ✮ ✯ ✰ ★
If you haven't already seen. There is currently a
GoFundMe
set up via
Reddit
in aid of Cancer Research UK. The moderator on the subreddit has decided to make good of the 'toxic' attitude surrounding the subreddit recently setting up the GoFundMe in an attempt to bring out Sean Murray...
"
I've moderated this place for about a month now and whenever I hear people speaking about how 'toxic' this place is or anything like that it just comes across as wrong, we've got an awesome group of people here who are actually doing what they can with this game that was unfortunately very badly received because of the excessive deception. Seriously the people here are great. If we could take some of the anger and turn it into a good cause then we're better than anybody who can claim this place to be 'toxic'
So the other mods and myself have been speaking about having a fundraiser type deal where we raise money for charity. Since we just hit 90 days of 0 communication about the game I thought now is a great time. What I saw in a thread yesterday was somebody saying they would donate if Sean Murray didn't speak by the 100th day, and that to me is silly because I doubt he will. He's got your money and he's probably gone for good, Sony NDA maybe, but I doubt it. Right now the charity the money will be going to is Cancer Research UK who do some amazing stuff. Their governance cost is 1% for those who care. We will be donating regardless of whether Sean Murray speaks or not.
Again we will be donating whether or not Sean Murray speaks. This is not us trying to threaten him, or anything of that matter.
So what I thought would be a good idea is we have the fundraiser, and if Sean doesn't speak up by the 110th day, which is 20 days away, we'll do something a bit more local, with the subreddit, instead of giving him any more 'reasons' to not speak again. I've set the goal to 500 pounds even though I think we'll only hit like 100 or so at most. I'll be putting in 20 pounds anyways. If you can't donate then that's obviously no problem, if you could share it, that would be amazing. It would be awesome if Sean Murray saw this.
Any donations are welcome, sharing is a form of donating too
Here's the link: gofundme.com/Jou…cer
Direct donate here: cancerresearchuk.org/sup…ate this is a direct link, GoFundMe takes 8% and then another 2% for Stripe. Use the direct link to ensure the charity gets the most.
"